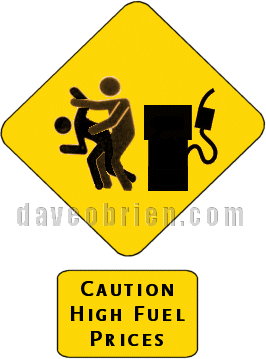 MN DoT Awards Sign Design Contract to Area Man



Yellow caution signs are all around us. We see them everyday whether we are in a crosswalk, or perhaps near a deer crossing area. Several deaths attributed to the shock of $80 gasoline fill-ups last summer have prompted the Minnesota Department of Transportation to issue bids for the design of a new warning sign. This sign will be displayed during the busy summer travel season when prices are expected to spike near the $3 a gallon price level.
Design winner and local web entrepreneur Dave O'Brien when asked how he came up with the design simply said "I just tried to convey how it felt to fill up the RV last summer".